"Dahab" – meaning gold, was once a small Bedouin fishing village which has now grown into a small town over the last 15 or so years.  It is situated on the southeast coast of the Sinai Peninsula, Egypt.  It is located approximately 80km (50 miles) northeast from Sharm El Sheikh and is one of the Sinai's most treasured diving and windsurfing destinations.  The nearest airport to Dahab is located in Sharm el Sheikh and there are many charter and scheduled flights landing daily from all over Europe and other countries.
Dahab has two top activities that attract adventure seekers to its shores, namely:  scuba-diving and windsurfing.  It is nestled between the magnificent Sinai Mountains and the Red Sea with palm fringed beaches, golden sands and stunning coral reefs.  The uniqueness of Dahab is its true laid-back atmosphere which still remains despite the growth it has witnessed over the past years.  Another unique feature is that it is still largely inhabited by its native Bedouin tribes who have settled here for some 800 years.  The Dahab community is made up of a mixture of people from all walks of life, including Egyptians, Bedouins and foreigners from most parts of the world who all live side by side peacefully and are thankful to reside in this special place.
Over the years Dahab has slowly been divided into 4 suburbs:
Dahab City and Lagoona
Dahab city is home to the 5* resort hotels and the administrative center of Dahab.  Apart from the resorts on the beachfront it is where the bus station, hospital, council offices, post office and decompression chamber can be found.  It is also a residential area mostly inhabited by staff of the surrounding hotels.
The Lagoona is one of the most beautiful spots in Dahab and made up of a long stretch of beach and a sand bank which curves around forming one of the best spots for learner windsurfers.  Some of the most beautiful sunrises and sunsets can be witnessed here and it is still a quiet location to get away from it all.  It is also home to the Islands dive site.
Mashraba
The suburb of Mashraba is found south of the bridge and is one of the busiest parts of town.  It is an extension of Masbat and also part of the shopping, dining and small hotel hub.
Masbat and Lighthouse
This area found north of the bridge is the true heart of town where all the traditional waterfront cafe's and quaint, interesting shops are found.  This is a great place to spend the day soaking up the sun and snorkelling.  Also great at night to enjoy some of the nightlife Dahab has to offer.  Home to the Lighthouse and Mashraba dive sites.
Assalah
This is the quieter end of town north of the bridge which is the location of the original Bedouin village.  This stretch of coastline is made up of some of the nicer small hotels, restaurants, cafe's and private homes.  Moving towards the mountains from the coastline is mostly a residential area, but also home to the local market with some great local restaurants.  Assalah is home to Blue Beach Club and the beautiful Eel Garden dive site.
Outer Dahab consists of:
Canyon and Blue Hole – two northern famous dive sites
Ras Abu Gallum – Bedouin settlement and dive site north of the Blue Hole
Blue Lagoon
Southern Oasis and southern dive sites – the southern stretch of coastline and dive sites
Gabr El Bint – a famous dive site south of southern oasis
Average Temperatures:
Dahab is renowned for its year round sunshine and great wind conditions which makes it a great destination for sun-lovers, divers and windsurfers alike.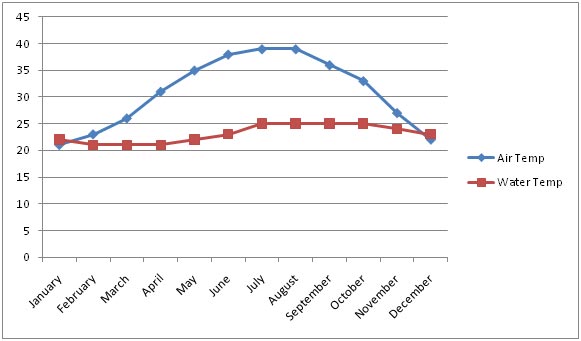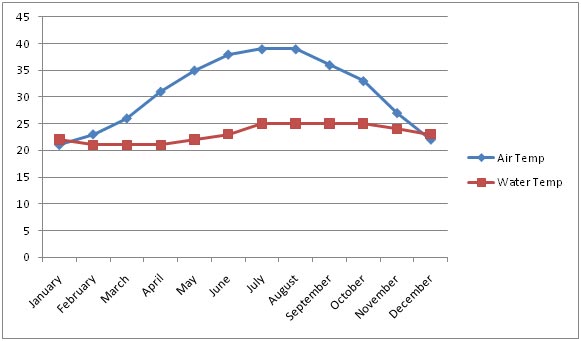 Visa Information
Visas are required for most nationals traveling to Egypt.  Visas can be applied for and purchased at the Egyptian Embassy in your country of residence.  For some European countries it is possible to purchase your Visa at the airport.  It costs 25 USD or 25 EURO and the Visa is a full Egypt Visa, meaning you can travel to any part of the country.  Your passport must be valid for at least 6 months.  It is advised to check with the Egyptian consul in your country to find out the specific Visa requirements for the country of your residence though.
Money
The local currency in Egypt is the Egyptian Pound (LE).  The average exchange rate is about:
1 GBP                     =             24 LE
1 EURO                  =             20 LE
1 DOLLAR              =             17 LE
Check for the latest up-to-date exchange rates by visiting:  www.xe.com
Money can be exchanged at the hotel or any of the local banks which are usually open from 9am – 2pm and 5pm – 10pm.  There are many ATM machines around town where you can withdraw money using any bank savings card.  Most reputable hotels take VISA, Mastercard and Diners Club cards, but add a 3% charge onto such transactions.