Poseidon Divers Dahab is a 5* PADI Career Development Centre which is situated in Blue Beach Hotel, with more than 20 yrs experience in diving in the Red Sea and provides all PADI Courses, snorkeling trips and daily dive excursions.
For more Information visit Poseidondivers.com
Scuba Diving in Dahab
Dahab is by far the best place for scuba diving and to learn how to become a scuba diver all year around. The water temperature varies from 27 C in summer to 21 C during the winter, and a visibility of 10 – 50 meters. The dive centre offers Aqualung 5 ml shorties and long-johns, Aqualung and Seaquest BCD's, Aqualung regulators, and Cressi fins in all sizes, which will keep you warm, comfortable and safe during all seasons. Poseidon Divers offers dive package deals, all PADI courses and programs with the option of full rental equipment.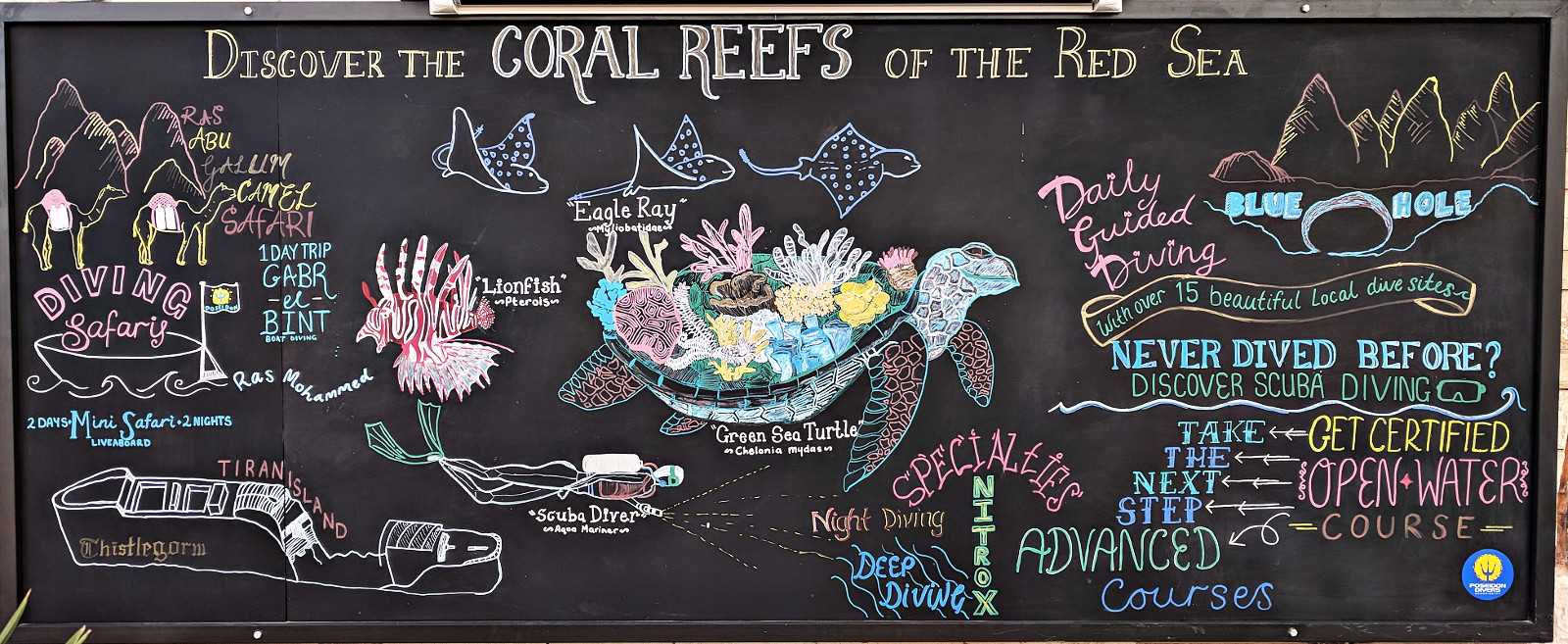 Just five minutes from the dive centre you will find Lighthouse bay, perfect for those who would like to learn how to scuba dive or do a try dive. The Lighthouse has a shallow sandy slope which is ideal for doing your PADI Open Water Course. The Open Water Course is the first step in becoming a scuba diver. During this 3-4 day scuba diver course for beginners you will have a chance to visit Lighthouse Reef and Bannerfish Bay and see some of the amazing marine life which is so typical for diving in the Red Sea.
The Reefs are the habitat for creatures like lionfish, damselfish, clown fish, butterfly fish, colorful fairy basslets, bannerfish and it even has its own house turtle. On the beach you will find plenty of charming restaurants to choose from where you can chill and relax in between dives and meet up with your non diving -friends and family, who can enjoy the sun loungers, fresh juice, bedouin tea or go for a snorkel or do a try dive.
During night dives or night snorkeling our professional dive guides will take you on an underwater tour on the Lighthouse Reef and show you hunting lionfish, feather stars, shrimps, Spanish Dancers, schools of fusiliers, parrotfish, blue spotted stingrays, and octopi.
Visit the best dive sites in Dahab!
For certified scuba divers there are more than 15 different dive sites to choose from, each with their own special features. Most dive sites are accessible to all levels of certified scuba divers. Poseidon Divers offers special deals for guided diving, including and excluding full rental dive equipment.
Only five minutes from the dive centre you will find the dive site Eel Gardens, the perfect site to bring your GoPro or underwater camera. The sight of the Garden Eels and different species of boxfish on the steep sandy slope are an out of this world experience. Giant Moray Eels and stingrays are often spotted here, swimming freely migrating from one dive site to the other.
Another unique dive site only 15 minutes drive by car from our dive centre is The Islands. It is easy to get lost in this labyrinth of hard coral formations, with massive pore corals, walls covered with fire coral, huge brain corals, and a garden with acropora under which you will have a chance to spot groupers, pufferfish,snappers, blue spotted stingrays and is home to a huge school of juvenile Yellowtail Barracudas and some of the Napoleonwrasses in this area.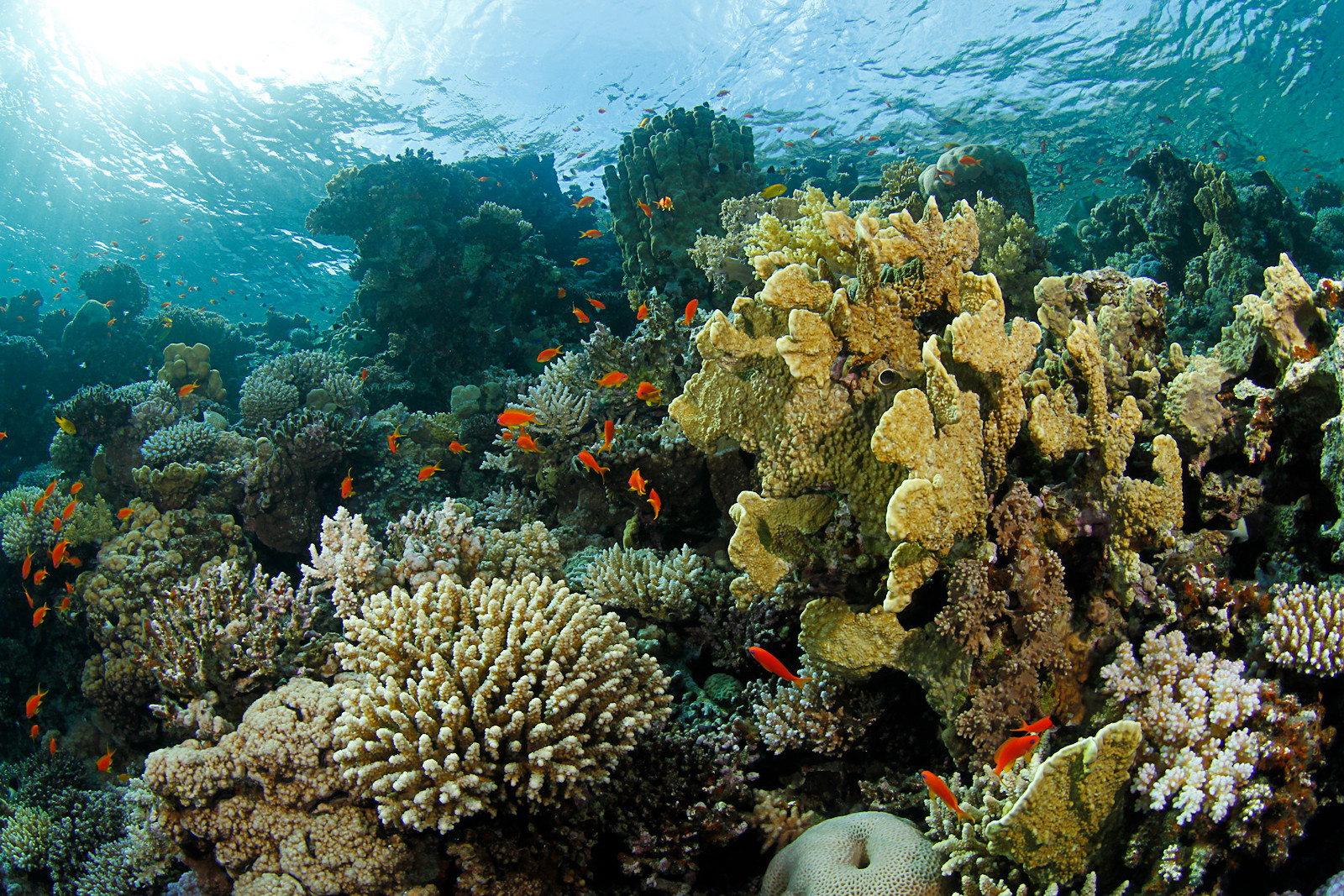 One of the most famous dive sites in the world is The Blue Hole. For everybody that is an Advanced Open Water diver we organise day trips to this part of the National Park. Most of the times we combine this day trip with a dive at The Canyon. It is also possible to participate in this day trip whilst you are doing your Advanced Open Water Course with one of our professional and highly experienced instructors at Poseidon Divers or do a snorkel excursion to the Blue Hole.
Boat excursions (diving / snorkeling)
Most diving in Dahab is shore diving. Once a week we organise a boat day trip to Gabr El Bint. This trip is very popular with both certified scuba divers and non-divers and will take you to the most remote reefs in Dahab. On board our guests can look forward to a breathtaking tour along the beaches from Dahab with the magnificent mountains of the Sinai Desert in the background. For people that like to scuba dive, this is the chance to see some amazing reef walls covered with huge fan corals and have a look in some caverns.
Snorkelers can enjoy snorkeling in the lagoona where a school of milkfish is often seen, turtles and stingrays come rest, or chill out and relax on the sundeck of the boat. On board there will be free soft drinks, coffee and tea and a delicious lunch (vegetarian, chicken or kofta) will be served by the boat crew after the second dive. There is an option for a third dive, and -weather permitted- we usually choose for one of the more unknown (and well kept secret!) dive sites with names like Shouab Said and Sugarat Reef.
Thistlegorm Wreck
One of the most famous wrecks in the world to dive is the Thistlegorm. This ship was built in 1940, and designed to transport refurbished wartime materials for the British troops. In 1941, loaded with a cargo of munitions, bombs of different kinds, anti tank mines, rifles, 100 BSA motorbikes, Morris and Ford trucks, tanks and 2 steam locomotives, rubber boots, field generators, medication, destined for the British 8 Army stationed in Egypt.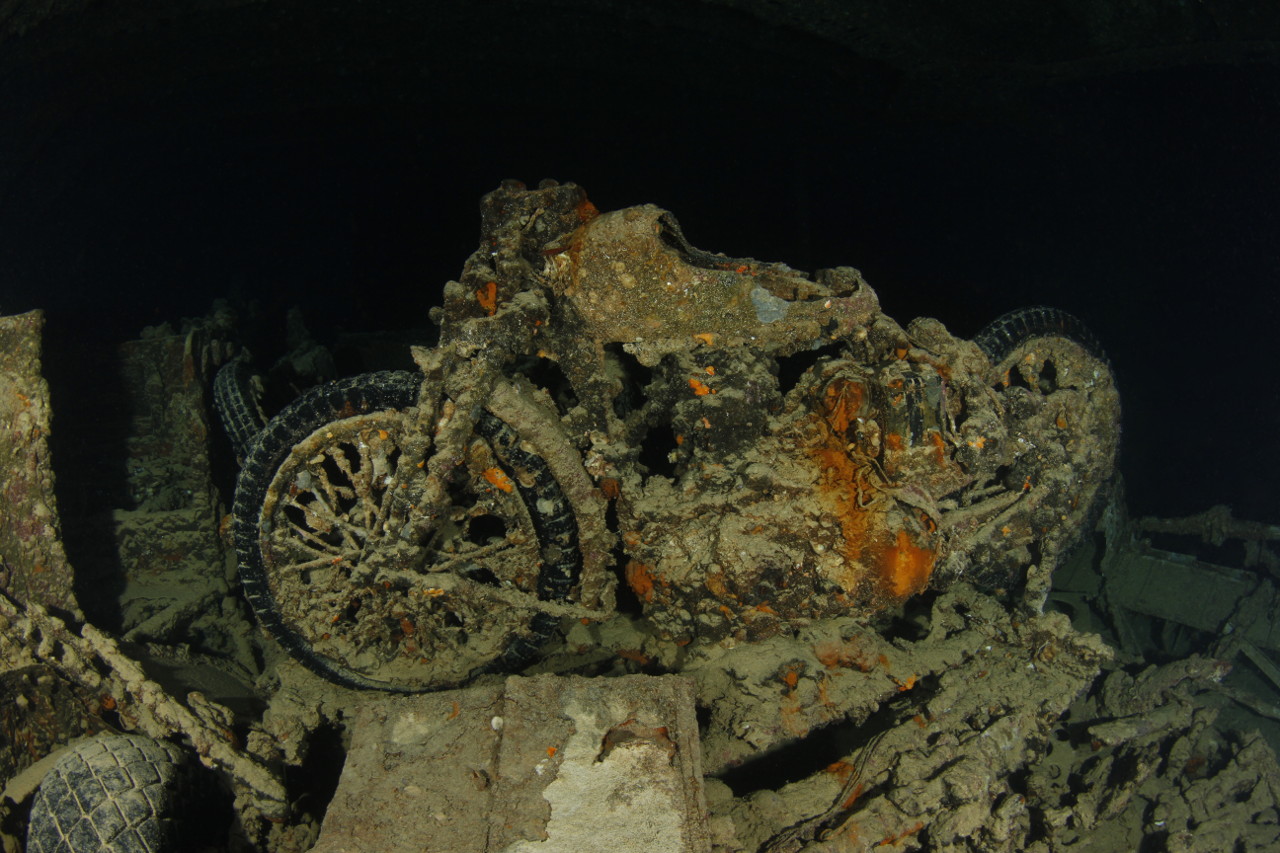 On the 5th of October whilst it was for anchor in the Strait of Gubal waiting to pass the Suez Channel, it was bombed by two German Heinkel He III bombers. The Thistlegorm was violently hit and sank abruptly in an upright position on a flat, sandy seabed at a depth of 30 meters. We have 3-4 trips a week going out to this Wreck, which you can visit with one of our experienced Divemasters. During this dive excursion there is an optional third dive at National Park Ras Mohamed.
We are happy to answer your inquiry on Poseidondivers.com